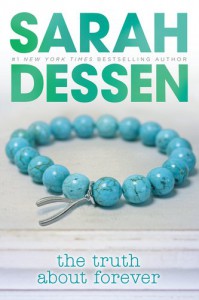 So this was my second Sarah Dessen book and can I just say that I'm ashamed I didn't try any before now. They are just so darn good! The Truth About Forever was just so sweet and cute. I almost didn't want it to end. Of course it had to and I was very happy with the ending. I just love how Sarah Dessen seems to be able to pull me in and make me feel so much for her characters, especially so quickly. I love that the books seem to go by fast and the next thing I know, I'm done. Most of all, I like how meaningful her books seem to be. They are full of feels both good and bad. They can have me sobbing one moment and laughing the next.
The story revolves around Macy, who everyone remember as the girl who watched her dad die. Macy is pretty much living a lie. She needs everything to go a certain way, no surprises. She is a good student, has a good boyfriend, is just the perfect daughter. A real good girl. Then her summer takes an unexpected turn and her plan for it is turned upside down. It was definitely an improvement from what it was, but not everyone, mainly her mom, thinks so. Macy ends up taking a part time job at a catering company after her boyfriend suggests a "break" over email (yeah, email. Ass.) and in turn meets such a different group of people than she's used to. These people are not perfect and the job is chaotic, but it's a welcome change for Macy, eventually.
I really love how throughout the story, we get to see Macy grow as a person. We get to see her finally grieve for her father and begin to realize that there is more to life than hiding behind being perfect. Things happen that we have no control over you just have to take them in stride. Things can only get better when they're at their worst. Macy goes through so many changes and it's just heartwarming to witness.
Then we have Wes. He's a "bad" boy who has been to reform school. However, he has his own history, like everyone does and as Macy learns more about him, she begins to realize how great of a person he is. The two start a friendship and it's perfect for Macy because it helps her realize a lot about herself.
Macy's mom is present in the story, quite a bit. However she's a workaholic since her husband's death. She hasn't grieved herself and when she notices that Macy is changing, well she doesn't like it. Her daughter is perfect and going to have a great transcript. She doesn't want her throwing it all away for people she doesn't see as worth it. Needless to say, I wasn't the biggest fan of her mom. I felt bad for her because it was clear she needed help herself, but she wasn't helping her daughter out any by throwing herself into her work.
Overall The Truth About Forever was a very emotional read that I couldn't get enough of. I'm very much looking forward to reading more by Sarah Dessen, she has won me as a fan.